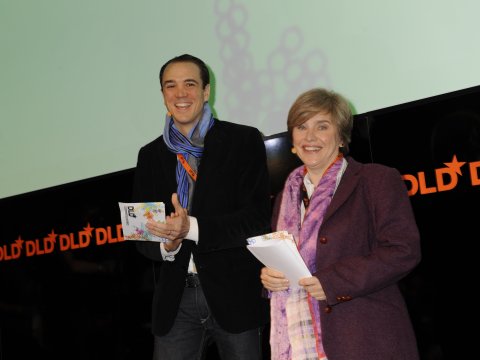 Marcel Reichart and Steffi Czerny
Für die deutsche Version bitte nach unten scrollen
While BarCamps or re:publica are deeply rooted in the web 2.0 community, the seed for the  DLD conference was planted and cultivated in the greenhouse of Hubert Burda. Founded 2005 by Steffi Czerny and Marcel Reichart, the annual event proves that the publishing top dogs are capable of more than just complaining about Google & Co. Apparently, the "lousy pennies" to be earned online are worth to invest a few pounds. And even the audience doesn't mind spending quite a bit of money to hear the thoughts of Jimmy Wales, David de Rothschild and Alexander Kluge on digital and beyond: The ticket price for the 3-day Digital Life Design conference in January was 2,500 euros.
The big little sister, the die DLDwomen is slightly cheaper, but top-class nonetheless. Partnering with big corporates like Nokia and various consulting companies, patroness Dr. Maria Furtwängler-Burda creates a monument for the "Female Decade": By the end of this week, the Centre for New Technologies in Munich will host panels and discussions on erotic capital, jealousy and femal risk management. The speakers list includes names like Catherine Millet, Zaha Hadid,  Regine Sixt and Hanna Sievinen. The latter has taken over the management of Nokia Germany as the first female MD beginning of this month.
T
The DLD10 took place in Munich in January
Sounds-Like-Me will be in the field to cover the DLDwomen and find out if female consumers are the better, if oestrogen fuels the future – and why Paulo Coelho is involved. And maybe at the end of the day we'll know if it's the 40 percent quota has steered Norway's economy to success.
:::::::::::::::::::::::::::::::::::::::::::::::::::::::::::::::::::::::::::::::::::::::::::::::::::::::::::::::::::::::::::::::::::::::::::::::::::::::::::::::::::::::::::::::::::
Während BarCamps oder die re:publica ihre Wurzeln aus der Mitte des Web 2.0 schlugen, wurde das Pflänzchen DLD in Hubert Burdas Gewächshaus gepeppelt und zum Blühen gebracht: 2005 von Steffi Czerny und Marcel Reichart gegründet, zeigt der jährliche Event, dass die alten Platzhirsche nicht nur gegen Google & Co wettern können, sondern ihnen selbst die "lausigen Pfennige" der nicht mehr ganz so neuen Medienwelt den einen oder anderen Thaler wert sind.
Und auch den Konferenzteilnehmern scheint kein Cent zu schade wenn sie Jimmy Wales, David de Rothschild und Alexander Kluge zu Digital and beyond referieren hören dürfen: Für stolze 2500 Euro waren die Tickets für die 3-tägige Digital Life Design-Konferenz im Januar zu haben.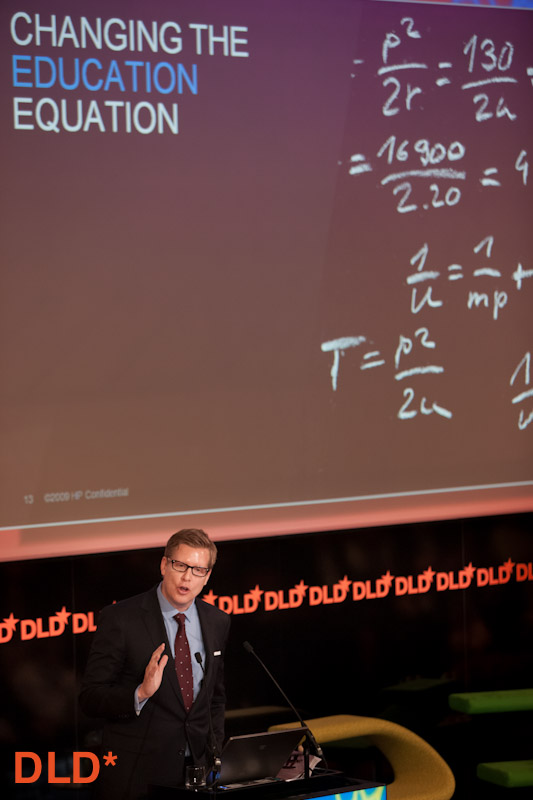 Michael Mendenhall at the DLD10
Die kleine große Schwester, die DLDwomen, ist da ein bisschen günstiger, aber nicht minder hochkarätig: Mit großen Partnern wie Nokia und Kooperationen im Consulting-Sektor setzt die Schirmherrin Dr. Maria Furtwängler-Burda der "Female Decade" in dieser Woche ein Denkmal: Zwei Tage lang wird das Deutsche Museum in München zum Austragungsort von Diskussionen rund um das erotische Kapital, Eifersucht und weibliches Risikomanagement. Die Referentenliste zieren Namen wie Catherine Millet, Zaha Hadid,  Regine Sixt und Hanna Sievinen, die seit Anfang Juni als erste Frau die Geschicke von Nokia Deutschland leitet.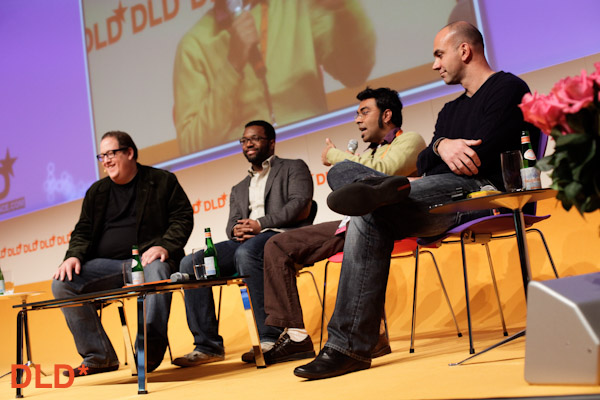 Panel discussion at the DLD10
Sounds-Like-Me wird live dabei sein und an dieser Stelle davon berichten, ob weibliche Konsumenten die besseren sind, Östrogen der Treibstoff der Zukunft ist – und was eigentlich Paulo Coelho auf einer solchen Veranstaltung zu suchen hat. Und vielleicht klärt sich dann auch, ob die Frauenquote von 40 Prozent der norwegischen Wirtschaft ihren ultimativen Erfolg beschert hat.